AEGIS- Multi Function Protection Relay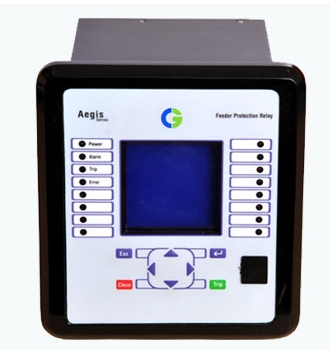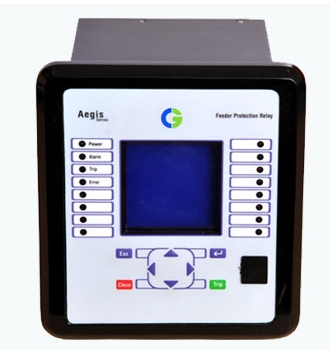 AEGIS- Multi Function Protection Relay
Overview
Features
Application
The AEGIS range of multi-function relay platform provides cost-effective, integrated Numerical Protection, Control, Monitoring & Measuring with Communication functionality. The platform has state of- the-art technology which ensures superior performance. The multi-function capability of AEGIS finds application as main or backup protection in almost every area of power system protection.
General Features
Self Monitoring
Graphic LCD (160*160 dots) to view/change setting, view events and analog information.
Wide range of site selectable universal operating time curve (IEC & IEEE) or user defined curve
Wide range of Auxiliary Supply
Expandable input/output Modules.
Outputs configurable to Self/Manual reset.
Multi level password protection.
Four Independent setting groups.
User friendly setting and disturbance record analysis software.
Programmable alarm/trip indication LEDs with text legend.
Protection Functions
Directional/Non-Directional Over Current Protection.
Directional/Non-Directional Measured ground fault Protection.
Under/Over Voltage Protection.
Neutral Voltage Displacement Protection.
Negative Sequence Over Current Protection.
Cold Load Pick-up & Inrush restraint (68).
Circuit Breaker Failure Protection.
Feeder Protection Relay
Motor Protection Relay
Transformer Protection Relay
Contact with us for your product inquiry
We provides 24/7 hours to support.